The Architecture of nderground (www.nderground.net)

a social network built for privacy
The design philosophy for nderground
The honeymoon with social media has ended. There's nothing in it for people who have anything to lose.
Social Media is Dead to Donald Glover, Action Bronson and Iggy Azalea by Paul Cantor, Medium, Feb 25, 2015
Humans are social creatures. We crave connection, recognition and affection from other people. Social networks like Facebook have been designed to monetize our desire for human connection. In fact, social networks are deigned to turn our desire for connection into a compulsion.
The currency that pays for social network access is our personal information, which becomes the input to sophisticated software analysis that processes this information as fodder for advertisers of all types.
The image of life that is presented on social networks is often a synthetic false image of perfect lives, relationships and gourmet meals. Academic studies suggest that people feel worse looking at social network posts as users measure their actual lives against the carefully curated lives they see on social networks.
nderground is a social network designed for privacy. Nothing posted on nderground is ever visible on the internet. Writing and photographs posted on nderground can only be seen by a select group of friends and family. nderground is designed to be a more authentic environment.
As of right now, my entire Facebook feed is made up of pictures, comments, life events and more of people I've never heard of before – almost exclusively people I've never heard of or seen before. It seems to be an experiment where my entire feed is populated by posts by people who I do not know but ones that my Facebook friends have liked or commented on.

It sucks. But more than that it is eye-opening and a little jarring to me just how disconcerting and unpleasant it is. Sartre said that hell is other people; actually it turns out to be the life events of people you don't know.
Josh Marshall, Talking Points Memo, July 1, 2015
A common (and unnerving) experience on Facebook takes place when you post a comment directed at a friend, only to have it packed up by people you don't know in your friend's social circle. In the worst case, a careless comment can be picked up by strangers, go viral, and sow chaos in your life.
On nderground posts and photos are only seen my your immediate social circle. We call this social circle a karass, a term from Kurt Vonnegut's novel Cat's Cradle. Unless they are also your friends, the friends of your friends will never see anything you post on nderground.
The Karass and Privacy on nderground
On nderound a Karass is the group of people who are part of your life. Your friends, your family or whoever you want to invite into your world on nderground. The content that you post on nderground can only be seen by your Karass when they are logged into nderground.
In the diagram below Bob, Alice and Ted are in the same Karass. They can all see material that each of them posts on nderground.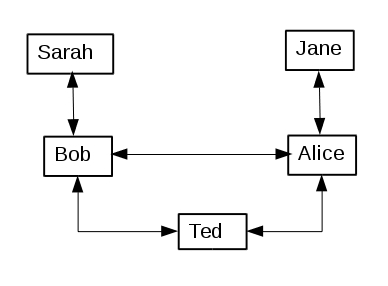 Sarah is in Bob's Karass, but not in Alice's Karass and Jane is in Alice's Karass, but not in Bob's. This means that Bob and Sarah can each see material that each of them posts, but Alice cannot see any of the material that Sarah posts. Similarly, Jane is in Alice's Karass and can see what Alice posts, but Jane can't see anything posted by Bob or Ted.
nderground Engineering Objectives
Security and Privacy
The core of the nderground social network is privacy. In order to protect privacy, nderground must be a "hard target" web application, using the latest web security features.
Scalability
nderground is designed to support hundreds of thousands of users. As users make demands on nderground, resources should smoothly be added to handle the load.
Cost
nderground is a bootstrap startup. There's no venture capital money to burn. The founders of nderground pay all of the bills, so a design that keeps costs as low as possible is important.
The nderground Board and Photo Galleries